Aviation and Aerospace - The Innovation Games 2019
Go head-to-head with other students to design the Ultimate Board Game!
Students will apply the game design principles they have learned from playing video and board games to solve problems in the aviation and aerospace industry.
The Format:
The program is suitable for students aged 11-14 years.
When:
Monday 15 and Tuesday 16 July 2019
9:00am to 4:00pm (Registration from 8:30am)
Where:
Fairbairn Function Centre, 49 Laverton Avenue, Fairbairn ACT
Cost:
$180.00 (+GST) per student for the two-day program
$160.00 (+ GST) per student for 2 or more children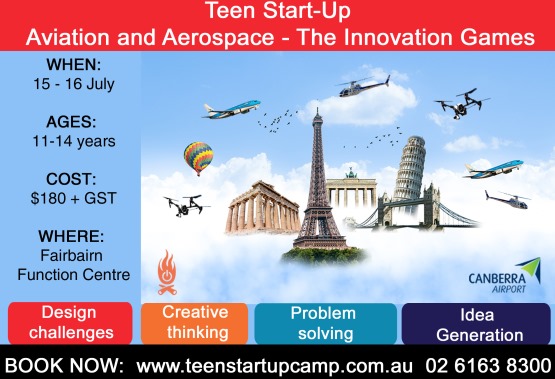 What is Teen Start-Up?
Teen Start-Up is a fun multi-day event where students aged 11-18 years are taken through the innovation development process from idea to execution. Students work together in teams to come up with an idea for a product or service that they believe provides a solution to a problem their generation will face in the future. The event concludes with the students pitching their concepts to a panel of judges.
During the camp students can access mentors, tools and technology to inspire their thinking.
The real benefit of Teen Start-Up teaches participants about the innovation process and the various tools that can be used. It doesn't focus on any particular skill such as coding or prototype building, but rather encourages participants to present their ideas in a way that works for them. They really are learning while having fun.
What makes Teen Start-Up unique is that the concept sits at the intersection of the needs of both business and education.
Schools
A program tailored to each school and delivered as an incursion, excursion, or as a co-curricular program.
Competitions
3-day school holiday innovation camps where students develop ideas and solve problems related to a given theme.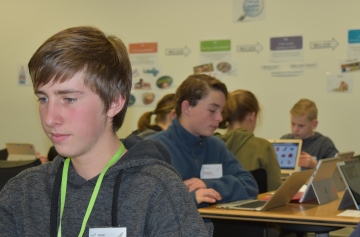 Accelerator
A 6-week after-school program for students 11 to 18 years old, designed to teach 21st Century skills.